In This Edition:
NEW Task-setting Interface
What is Three-wave Intervention? (Video 3:20)
Revision Focus Points
Free PDF: Revision Tips for Learners
Case Study: 'Three-wave Intervention for Literacy & Numeracy Catch-up'
March Rewards
NEW Share Content
NEW Task-setting Interface 
An exciting update for teachers: your SAM Learning interface has changed to allow easy, three-step task setting for personalised learning and Three-wave Intervention.
The new interface has now been released to all Three-wave Intervention schools.
What is Three-wave Intervention? (Video 3:20)
See how Three-wave Intervention can help personalise learning.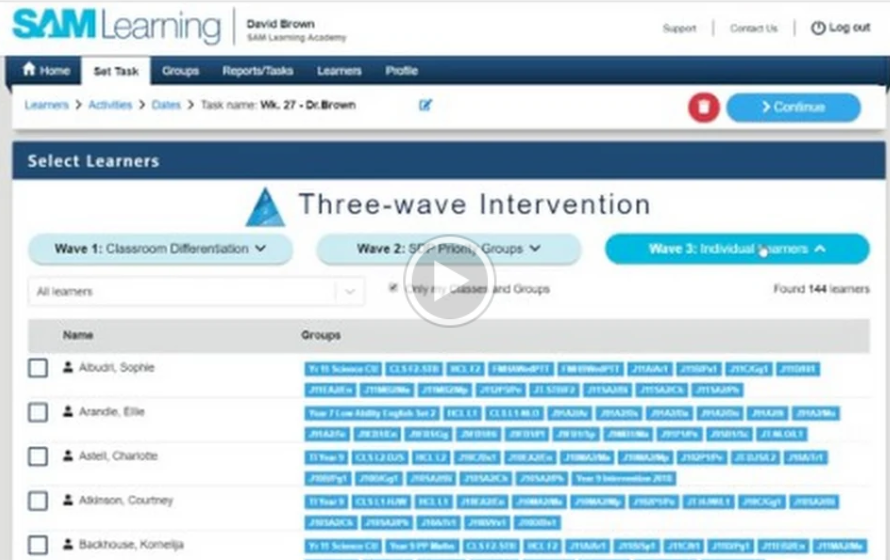 Easy as 1, 2, 3!
Why not log in now and start setting tasks?
Revision Focus Points 
Our easy task-setting, curriculum-aligned resources and flexible reporting give teachers the perfect tool kit to guide learners through their revision.
Keep a record of learners who are absent from lessons. Assign them SAM Learning activities to avoid gaps in their learning. Click here to set tasks.
Use SAM Learning reports to identify where your learners need extra help with specific topics. Find out how here.
Set a task-hour challenge for learners. Did you know SAM Learning is proven to improve when learners spend a minimum of 10 hours on given tasks. Read more.
Set personalised tasks for learners to complete based on their individual learning gaps, allowing revision to be precisely targeted.
Tell your learners to review the work they have completed on SAM Learning (in 'My Set Tasks'), find the activities with the lowest score and try them again.
Free PDF: Revision Tips for Learners
Case Study
Three-wave Intervention for Literacy and Numeracy Catch-up.
Sarvinder Phalora is Curriculum Leader of Mathematics at Nishkam
School, West London. In his case study, he discusses the effective use of Wave 2 and Wave 3 intervention and how these have been used at his school to successfully target Year 7 Literacy and Numeracy groups. This school opened in September 2018 and has been working to develop effective systems to best support its wide range of learners.
Click here to read the full case study.
Further questions?
Unsure how to personalise learning using our Three-wave Intervention?
Require help creating groups?
Want to know how to access reports?
Talk to SAM Learning's School Success Team who will be happy to help.
Arrange a meeting with the School Success Team here. 
March Rewards
During March, we are offering Amazon voucher rewards for publishing Case Studies and for publishing activities using Share.
Full details of rewards for March are here.
NEW Share Content
The Share icon indicates this is one of thousands of activities created by teachers at other SAM Learning schools.
New Share activities are being added every day, with 175 being published in February 2019 alone. Over 10,000 activities now exist in Share, providing a rich variety of additional resources for SAM Learning teachers.
Share+ activities are selected by SAM Learning from Share content each month via a quality assurance process. The activities are edited, checked for copyright and some design elements added. They are then re-published as part of the main SAM Learning content. Any teacher who has their activities selected for Share+ will receive an Amazon voucher as a thank you.
Log in now to take a look at the activities available. 
Stephanie King
Commercial Director
Tel: 0207 025 0616
Mobile: 07841023855